Some headlight ideas where getting tossed around before the Grom/ruckus meet in Orlando yesterday and my dude at sportbikelites.com wanted to try and hook something up real quick.
Keep in mind this was thought of and made in pretty much a days time before the meet so this isn't final. More to come from these guys and keep on the lookout as he will have some options here soon with the light bar setups.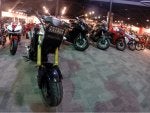 I know as of now he plans on doing a dual setup and a dual setup with the light up Grom mixed in with it.
[ame]http://www.youtube.com/watch?v=GcN4VYsKQCY[/ame]
Sent from Motorcycle.com Free App