Discussion Starter
·
#1
·
Decided on Monday to go to Harbor Freight Tools to pick up more buffing pads to polish the Grom swing arm, stop by AAA to pay my car and truck insurance, fill up the Grom with gas and last stop was at Auto-Zone to buy some Gold, Silver, and Clear high heat spray paint to paint some plastic Grom parts and wheel cushing unit.
Camera used was GoPro hero 3+, and the Grom is the RED one all stock including the Vee tire. The video was about 20 minutes long but I had to cut it down to about 3 minutes due to the limits of photobucket. Yes I ride WOT even in the rain, been doing that type of riding everyday rain or shine, no different than with my Hayabusa.
There was a RED Saturn car that followed me for about 3 miles to my house and I thought the driver wanted to know a little about the Grom but all he wanted to tell me was to thank me for my service. I had that happen a couple of times since I've been wearing my helmet which indicated that I was in the Navy. You can hear the guy thanking me at the ending of the video.
Just click in the pic and the video should start. Video date should be 2014 but screwing around with Imovie trying to cut down the video I made a few mistakes with the final production.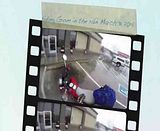 My helmet with Gopro mount and NRA sticker on the back side of the helmet. I served 6 years active including ship board life on the USS John S McCain DDG-36 home port San Diego. We had a Navy Seal Team on board our ship for special ops.
This image has been resized. Click this bar to view the full image. The original image is sized 640x426.